Betting Odds Tighten for Aaron Rodgers' Next Team
GREEN BAY, Wisconsin — The Green Bay Packers remain the betting favorite for Aaron Rodgers' team for the 2023 NFL season, but an obvious top challenger has emerged.
Since the New York Jets have hired Nathaniel Hackett as their offensive coordinator, they are the new top contender at DraftKings Sportsbook. In odds updated Friday afternoon, Green Bay remains the favorite at -125 for an implied probability of 55.6 percent. Jets are up to +125 after the Hackett news from +750 earlier in the week. That's an implied probability of 44.4 percent.
In announcing Hackett's hiring, Jets coach Robert Saleh said the team will be pursuing an experienced quarterback. Clearly, Hackett's story and his relationship with Rodgers make for some easy-to-connect points.
"Quarterback position with all the different interviews was the #1 concern, and rightly so, and it was easy," Saleh said Thursday. "We're anxious to find a veteran – we didn't come up with names. I doubt he's studied these guys yet, which he'll start next week, but we didn't go into names. But there has been talk of planning to bring in an experienced quarterback if we can and we want to continue working with Zach (Wilson).
Rodgers won MVPs alongside Hackett in 2020 and 2021. In 2020, before the Packers took on the Jacksonville Jaguars — Hackett's former team — Rodgers gave a long and resounding endorsement for Hackett, punctuated by:
"Hack has been a really important part of our culture shift and a part of our success on offense. I love him. Hope he's not going anywhere. Unless I do it."
The Las Vegas Raiders, who are looking to replace quarterback Derek Carr and have a familiar face at receiver in superstar Davante Adams, rose in updated odds from +550 to +750. The Indianapolis Colts are +1000.
Next team odds for Aaron Rodgers
Team: Odds as of Jan 23rd and updated on Jan 27th via DraftKings.
Green Bay Packers: then -125; -125 now
New York Jets: +750 then; +125 now
Las Vegas Raiders: +550 then; +750 now
Indianapolis Colts: then +1,500; +1000 now
Miami Dolphins: +1,500 then; +1200 now
New England Patriots: then +1,200; +1500 now
Tennessee Titans: +1,500 then; +1500 now
Washington Commanders: then +1,800; +1800 now
San Francisco 49ers: +1,000 then; +1800 now
…
New Orleans Saints: then +1,500; +3000 now
Ranking of potential trading destinations
Wild Cards: Miami Dolphins, Washington Commanders
With a talented roster, Miami is about $22.7 million over the cap and would need to restructure a number of large base salaries to make enough room. Quarterback Tua Tagovailoa has a below-average arm and a season of troubling concussions. He won eight of his first nine starts but none of his last four.
The Dolphins are coached by Mike McDaniel, who comes from Kyle Shanahan's coaching tree. So Rodgers would arrive in Miami with a flair for his new offense and perhaps the best receiver duo in the NFL with Tyreek Hill and Jaylen Waddle. However, the Dolphins do not own a first-round selection.
Rodgers may not be interested in joining the Commanders given his ownership (embattled Daniel Snyder) and track record (no wins this season as of 2015). But they have three legitimate receivers and a savage defensive line in Terry McLaurin, Jahan Dotson and Curtis Samuel. Rodgers would surely cheer on a disaffected fan base; only 50,000 fans showed up in week 17 against Cleveland.
If Washington dumps Carson Wentz, it has about a $30 million ceiling.
No. 5: Tennessee Titans
Tennessee, which went 7-10 in 2022 after going 11-5 and 12-5 in the previous two seasons, is about $27.7 million over the cap. Firing Ryan Tannehill would account for about two-thirds of the surplus, and weeding out some overpriced veterans would do the rest. Fitting in from Rodgers would still be difficult, however. The Titans have a stud running back and powerhouse run defense, but the receiver corps is among the worst in the NFL.
Rodgers already owns real estate in Nashville. He also spoke fondly of Titans coach Mike Vrabel before Tennessee beat Green Bay this season.
"There's a toughness that Mike brings and I'm sure the expectations are really high for her," Rodgers said. "I keep in touch with Mike throughout the year and they lost their first two games and I think just like it happens in this league there's probably overreaction and what the hell is going on and what we're going to do and me think they went like five or six wins in a row and kind of put everyone at ease. But they obviously have a really good football team and Mike is a great coach."
#4: Indianapolis Colts
The Colts have been a hot mess since Andrew Luck's surprise retirement. They've swung around the fences with veterans Philip Rivers, Carson Wentz and Matt Ryan for the past three years. So there's a track record of chasing an experienced arm. The Colts have about $5.7 million in cap space. Dropping Ryan would add up to about $23 million.
Rodgers essentially has veto power over every trade. If he doesn't like the goal, he can say, "No, I think I'm retiring." Would he be interested in joining a team after a 4-12-1 season? On the other hand, owner Jim Irsay is desperate and could move heaven and earth to seduce Rodgers.
Maybe whoever they hire to coach – Rich Bisaccia, anyone? — would fascinate Rodgers. Running back Jonathan Taylor and receivers Alec Pierce, Michael Pittman and Parris Campbell are good starting points on offense, but defense is poor.
#3: New England Patriots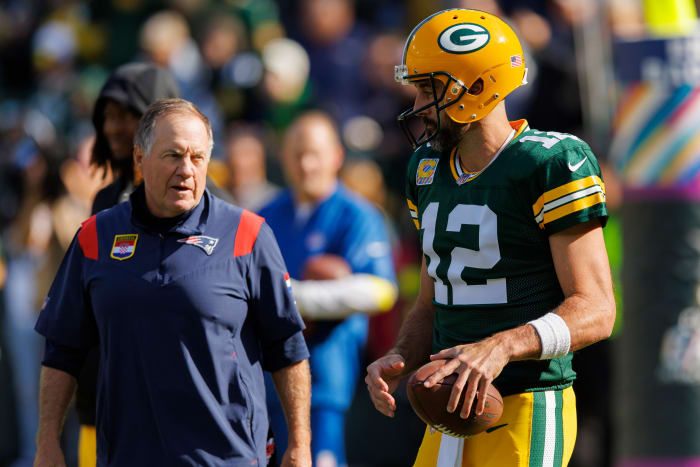 Coach Bill Belichick, who turns 71 a few weeks before the draft, is entering his 23rd season as coach of the Patriots. At this point in his career and life, does he want to deal with Mac Jones, who relapsed into year 2? Belichick holds Rodgers in the highest regard.
"Of course Aaron is one of the best. I have tremendous respect for him," Belichick said on a conference call with Packers Beat reporters ahead of the 2018 game. "He's a bright guy, knows football very well.
"He has a great, great vision. He does such a good job of seeing the field, I would say at a rare level, and then he can quickly get the ball to any point on the field, outside and on the run. He has great accuracy and decision making. He's a tough guy. I don't want to take anything away from any player we've faced, but he's certainly at the top of the list. He's a great player and has been for a long time. I have a lot of respect for Aaron."
The feeling is mutual, as Rodgers said before and after the game.
"He came over before the game and we exchanged a few words," Rodgers said before the Packers won this year's clash. "It's nice to be able to have a few private chats every now and then. And he came over, we were in the throwing lines and we had a nice hug and exchanged a few words back and forth.
"The truth is always easiest to tell. I meant the things I said about Bill last week. The way he trains and the success he's had, he's a phenomenal leader and always has his boys ready to play. Those were some of the feelings I'm sure I echoed. I'll leave the rest to some of the stray mics who probably caught some of that."
The Patriots have nearly $29 million in cap space.
#2: Las Vegas Raiders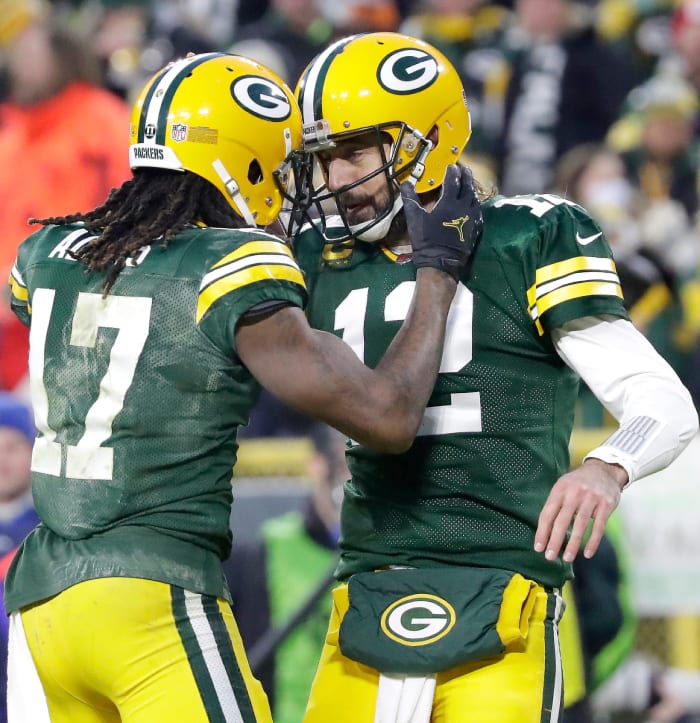 Why was Green Bay's offense in general, and Rodgers' in particular, so good in 2019 and 2020 but so walkable in 2021?
"I feel like losing Davante was obviously a big deal," Rodgers said of Davante Adams' offseason trade. "We have not filled this gap. Nobody can. He's superhuman. He is phenomenal. There was hope in certain things that would fill that void. Ultimately, that just didn't happen.
"The things that we've been able to do I think have been taken for granted at times because over the years and especially the last few years we've been able to do so many different things at the moment because not much has changed other than his absence from the lineup.
Las Vegas, who gave up quarterback Derek Carr, appears to be an obvious suitor, although Tom Brady is the rumored preference. You know Rodgers would welcome a reunion with Adams. Vegas has about $11.8 million in Cap Space, and Carr's departure will take that to more than $40 million.
#1: New York Jets
In 2008, the Packers traded Brett Favre to the Jets. Could history repeat itself? The Jets were the top pick here even before signing Nathaniel Hackett as offensive coordinator on Thursday.
The Jets went 7-10 despite Zach Wilson's struggles as a sophomore. Aside from the quarterback, it's a talented roster. Three of the NFL's top rookies that year were receiver Garrett Wilson, likely Offensive Rookie of the Year, cornerback Sauce Gardner, likely Defensive Rookie of the Year, and running back Breece Hall. The Jets' defense finished fourth in points, fourth in total defense, and second in yards per passing play.
Rodgers has a lot of respect for Jets coach Robert Saleh. Also, Hackett will install a criminal offense that Rodgers would know inside and out. They would make an enticing coaching duo.
"They're coached really well, they fly to football and I'm not surprised they're 3-2," Rodgers said before the Jets won in Week 6. "The kind of leader that Saleh is when they get some players in there – and they've obviously come to their football team in the last year and gotten a lot better – it doesn't surprise me that they're 3-2 and playing well .
The Jets are about $6.6 million over the cap, but have easy ways to make room enough.
—
For what it's worth, the Packers are the betting favorite for Rodgers' team in 2023, with the Raiders, Jets, 49ers and Patriots rounding out the top five.