East Gate to reopen on Monday | Article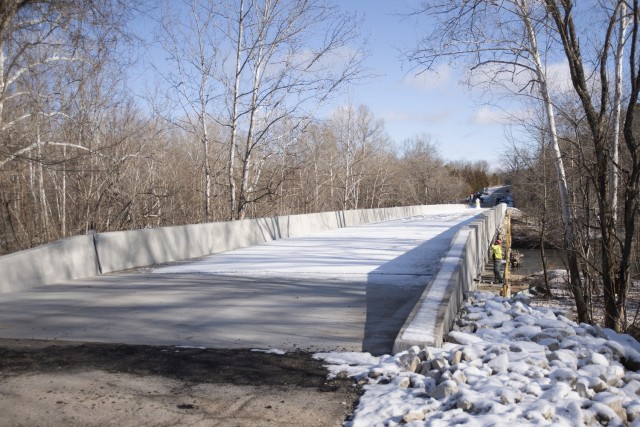 FORT LEONARD WOOD, Mo. — The east gate will reopen at 5 a.m. Monday morning after officials with the Fort Leonard Wood Directorate of Public Works announced this week that the improvement project for the bridge in front of the gate has been completed.
Hours of operation are 5 a.m. to 8:30 a.m. and 2 p.m. to 6 p.m. on weekdays.
The completion of this project, which modernized and upgraded the 80-year-old bridge that connects the J Highway to the facility just outside the east gate, will help keep the Fort Leonard Wood community safe, said Dillon Barks, a DPW civil engineer for the project.
"On behalf of DPW, we would like to thank you for your patience while we dealt with the necessary repairs to the East Gate Bridge," he said. "DPW's goal in this project was to ensure a safe and solid structure while upgrading to the latest standards and safety features."
Workers were originally contracted in 2021 to mill and recoat the asphalt pavement while sealing the underlying concrete on the 420-foot bridge, but the scope of the project changed when officials noticed the amount of deteriorating concrete underneath , said JD Bales , Director of DPW Engineering.
"We knew that water was entering both the asphalt and the concrete because spalling was occurring on the underside of the concrete pavement," Bales said.
Spalling is a term used to describe when concrete breaks into smaller pieces. In the case of the WWII-era East Gate Bridge, which crosses the Big Piney River, water – over time – had damaged the structure.
Bales said the plan then had to be changed to remove the deteriorating concrete and replace it. The chosen repair method for the bridge should be able to be maintained in the future with very little disruption to traffic, he added.
"We now have a full depth concrete deck," he said. "The upgrades ensure one of the bridges people rely on every day to access the installation is secure."