Bord Bia Drives New European Beef and Lamb Campaign in United States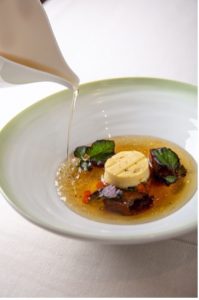 NEW YORK, NY— Bord Bia – the Irish Food Board – officially launches its new European beef and lamb campaign in the United States. This new campaign aims to raise awareness of the EU and Ireland as suppliers of high quality, sustainably produced beef and lamb.
Under the motto "European Beef and Lamb – Ireland, working with nature", the three-year campaign, which is co-financed by the European Union, targets high-potential markets in the United States, Japan, South Korea and China. The campaign will invest €4.8 million (US$5 million) in these markets and provide a range of promotional activities to be implemented by Bord Bia.
Kicking off the three-year campaign, Bord Bia welcomed a delegation of journalists and stakeholders to the campaign launch event at Michelin-starred restaurant Le Pavillon in New York City this week and will welcome 12 others to a technical trade seminar in New York today. The seminar features presentations on the natural and sustainable production methods of European/Irish beef and lamb in the presence of ABP Food Group, Farmly Neighborhood Kitchen, Hawkmoor Steakhouse, Oliver Chang Catering & Events, Pier 60 Collection, The Dubliner, The Food Network , The Rainbow Room, Sonesta Hotels, ETC Venues and The Gansevoort Hotel. Additional trade and media events will be organized in other US cities in the coming months.
This campaign will invest a total of $1 million in promotional activities in the United States market. This investment is expected to result in a US$12.6 million growth in Irish beef and lamb exports to the market.
Over the course of the campaign across the United States, Bord Bia will engage more than 350 key trade and decision makers and over 255,000 buyers will be accessible to our meat exporters at international trade shows such as the American Meat Conference in Texas and technical trade seminars that Bord Bia hosts each year at the will host market. Bord Bia will also welcome 15 American trade and media representatives to Ireland to visit grass-fed beef and lamb farms and processors to get a comprehensive picture of EU and Irish beef and lamb production.
Henry Horkan, Bord Bia's Director of North America, commented, "We are excited to launch our three-year campaign in the United States, a market that we know has a strong affinity for beef consumption as part of its culture and heritage .
Beef production in Ireland is underpinned by strict EU food safety laws, recognized as the strictest in the world, and sustainably raised Irish cattle are fed grass from the rolling hills of the Irish countryside, giving the meat a unique flavor and texture . We look forward to sharing the flavor and versatility of EU beef from Ireland at this week's NY events and throughout the US campaign."
Thanks to high EU safety and production standards, Irish beef has been verified under the USDA's Process Verified Program (PVP), which assures US consumers of the consistent quality of Irish beef against eight approved claims, namely: Irish Grass Fed Beef, Pasture Raised Beef, From Certified sustainability program, raised on family farms, raised without the use of growth hormones, responsible use of antibiotics, full traceability from farm to fork and certified quality assured farms.
Joe Burke, Bord Bia's Senior Meat and Livestock Manager, added: "We are excitedly preparing for US market access for EU lamb from Ireland, which is expected later this year. Lamb is a staple Irish tradition and we look forward to sharing some of our best cuts and recipes here in the US."
The campaign "European Beef and Lamb – Ireland, working with nature" runs for three years until June 2025 and aims to increase awareness and understanding of the high quality and sustainability of European beef and lamb.
For more informations:
https://www.bordbia.ie/