Pittsburgh duo slowdanger continues dance series with memory 7: farthest field
click to enlarge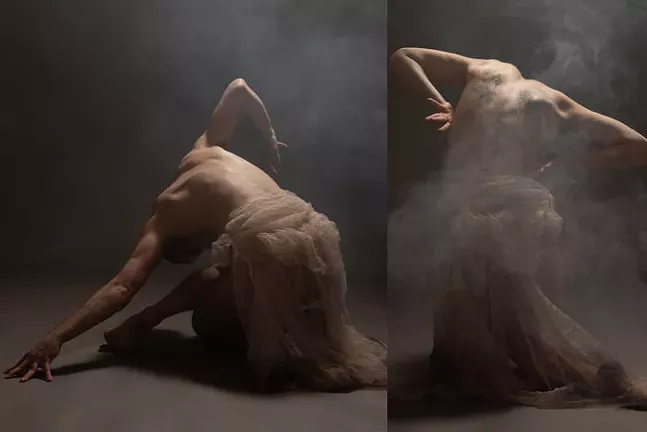 Pittsburgh-based duo slowdanger have unfolded a story through movement over the past several years. The latest chapter of this story entitled the memory rowwill be playing at The Space Upstairs.
The creative minds behind SlowDanger, Taylor Knight and Anna Thompson, will present themselves Memory 7: Farthest field, a live duet performance described as "forming an ethereal capsule". The exhibition takes place on Friday, January 27th and Saturday, January 28th and includes a documentary film memory 6, created in collaboration with Juliette Sutherland, a cinematographer who is also Thompson's cousin.
In an email interview with Pittsburgh City NewspaperKnight and Thompson explain this the memory row started in 2013 with Memory 0: … and now consists of eight episodic works that can be experienced in or out of order.
"This work was a first entry point to explore how we would work together," the email reads. "The spirit of this series is manifested through a long-term interactive process that keeps returning to previous concepts, images and ideas throughout our career, allowing each work to inform itself and the next, to test itself and learn from one to develop to the other. "
They compare this process to a construction site, the environment that they believe also inspired the name slowdanger.
"With the memory rowwe can return to a process constantly stimulated by our extensive experiences in other creative processes of ourselves and as collaborators in others," they add. "It's a process where we can always pick up where we left off. "
To this end, Memory 7: Farthest field pick up where memory 6shown before the live performance ends with "a rebirth and a re-entry".
she say that the memory row "continues to reflect the rhythms of life through which we move cyclically throughout our lives," including pregnancy, birth, growth, stagnation, degradation, death, and decay.
In terms of what to expect, says slowdanger reminder 7 plays with the "abstraction of the body and its continuation through the landscape, surrealism, DIY aesthetics, womb-like ambience, the crackling of plastic, strong lighting and scene changes" as well as elements such as "silhouette, sunset/dawn, voices, breath, footsteps, rhythm ."
"It uses set design to further abstract and blur the body's relationship to its surroundings," they continue. "We want it to feel like the space between dream and awakening when unsure of what is real and where there might be powerful moments of hyperspecific clarity that fall back into a place that is both familiar and alien. "
They explain memory 6 was "performed and shaped" at various festivals and touring engagements, then made into a film during the pandemic. In contrast, reminder 7 had a "much shorter development process". It will also serve as a space for slowdanger to explore ideas SUPERCELLa larger, developing work that will premiere in December.
They add that concepts they discussed with their scenic collaborator ProjectileObjects, e.g SUPERCELL were instrumental in the production reminder 7.
"Even though we've had less time in the studio to hatch this work, we believe there's an immediacy and electricity to works that have a rapid process," they say. "We have to move and make decisions based on instinct and intuition. There can be beautiful moments that we might have removed or eliminated in favor of clarifying a larger concept if we had more time to stew with work."
---
Memory 7: Farthest field
.
8pm Fri 27 Jan-Sat 28 Jan. The Space Upstairs. 214 N. Lexington St., Point Breeze. $20. farthestfield.splashthat.com