Winston-Salem woman opens bakery to honor her late grandmother.
A baker inspired by her late grandmother is drawing fans to Marketplace Mall for her sweet potato brownies, cottage cheese pies and more.
Winston-Salem native Shanata McMillian Shepard recently left her rehab job to pursue her new business, NataBelles Desserts, which opened in September at a kiosk in Marketplace, 2101 Peters Creek Parkway.
"My grandma gave me this name when I was a baby," Shepard said, explaining the name of the bakery.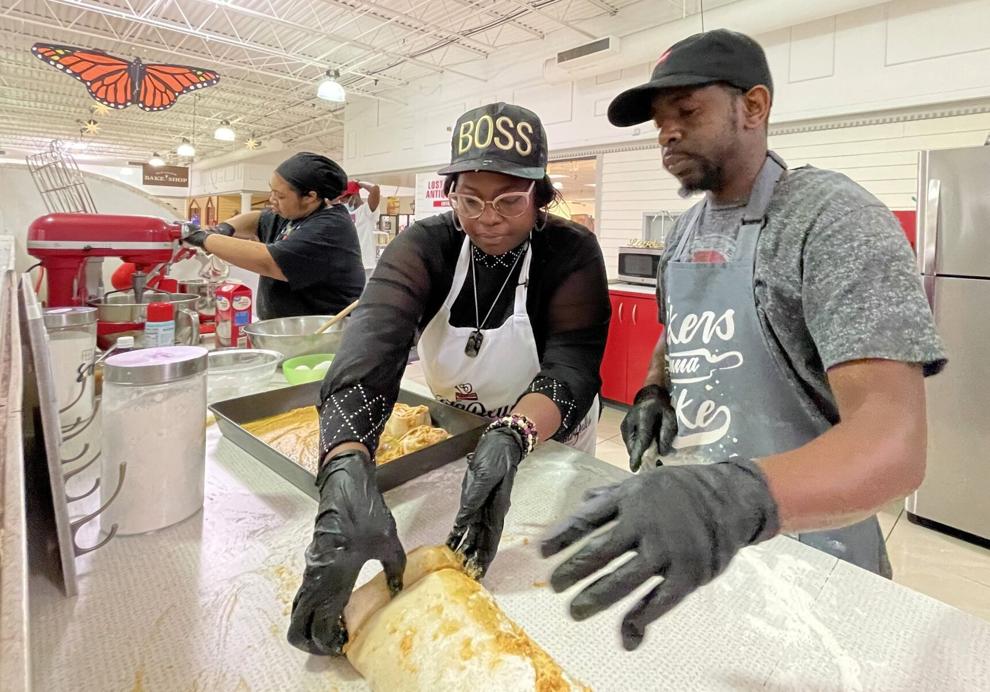 The company's origins date back to 2018, the year Shepard's grandmother, Catherine McMillian, died.
"I was very sad when my grandmother died. I was depressed," Shepard said. "And she loved to bake. So baking became my therapy."
Shepard started baking for friends and family. "And it's just grown by word of mouth," she said.
But Shepard, 43, had no plans to quit her job and open a bakery until last spring. One day while dropping off her now 8-year-old Ar'Jai at Sherman's Drop-In Childcare at the mall, she noticed that the kiosk formerly occupied by Ruby G's Buttercream Sensations, which had moved up the street to the West Salem Shopping Center, had become available.
Despite standing at a kiosk down the middle of the mall's corridor, Shepard can bake quite a storm with a commercial oven, three stand mixers, and a little help. MacKenzie Miller is her assistant baker, and her husband Robert Shepard and their eldest son, 15-year-old Chancelor McMillian-Lewis, help out when they can.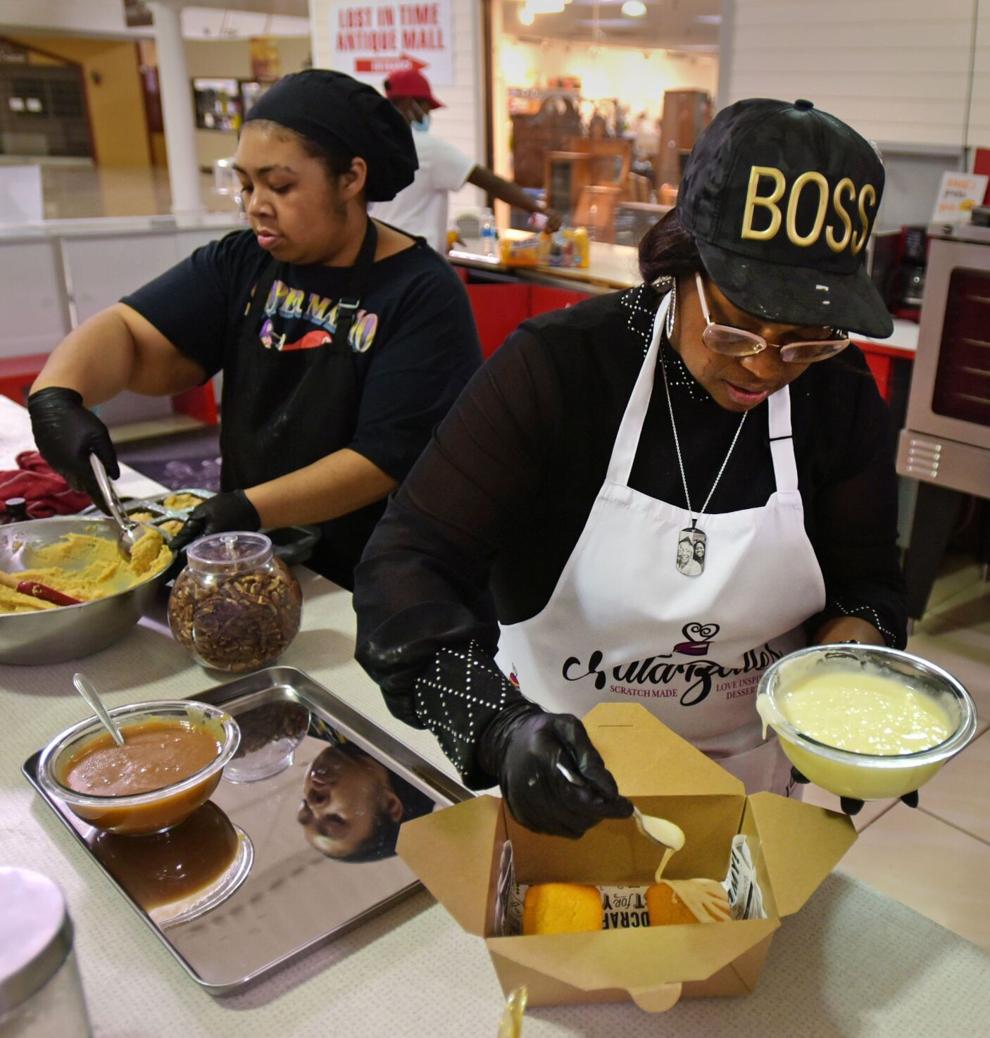 Shepard's favorite treat is a sweet potato brownie, which isn't a brownie at all. They are essentially a blondie with a sweet potato pie filling. "When I started telling people about it, nobody knew what a blondie was, so I started calling it a brownie because it was easier," Shepard said.
"This started when I was making sweet potato pound cake and it failed. You know how cakes fall when they have too much sugar? But it was so good that I said I have to do something with it. It took me about five months to get it down."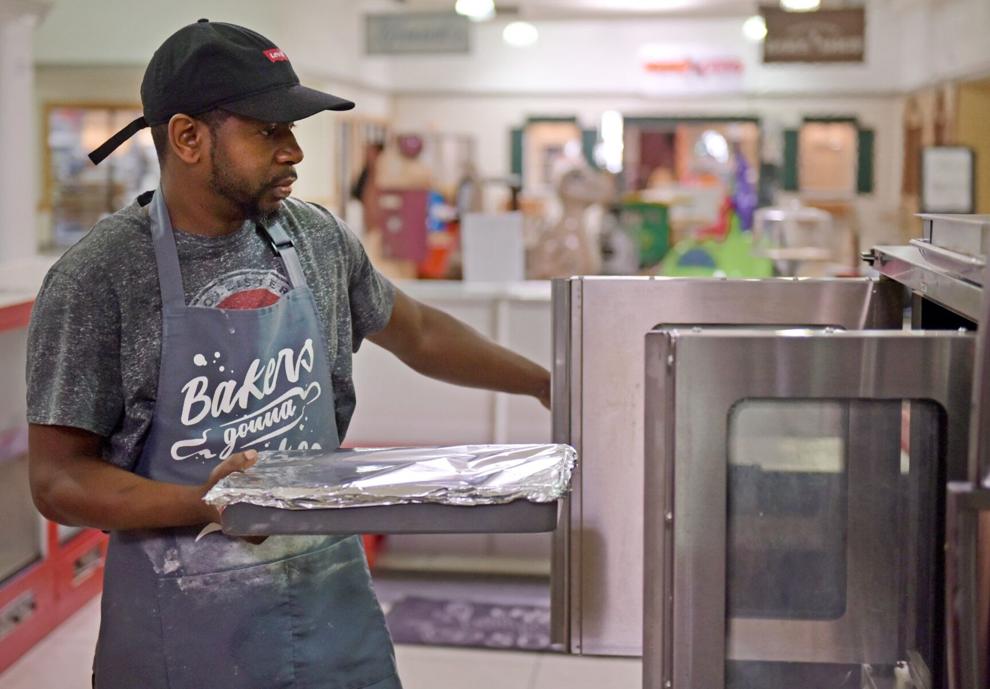 Shepard just bakes the brownies or blondies. The addition of sweet potato pie filling makes them similar to custard pies, very soft and moist in the center but with crispy edges.
When customers buy them, Shepard makes them to order with toppings of cream cheese frosting, caramel sauce, or pecans—or any combination of these.
The result is a bit gooey, but that's part of the appeal. "We call it the drip… People really like that," Shepard said.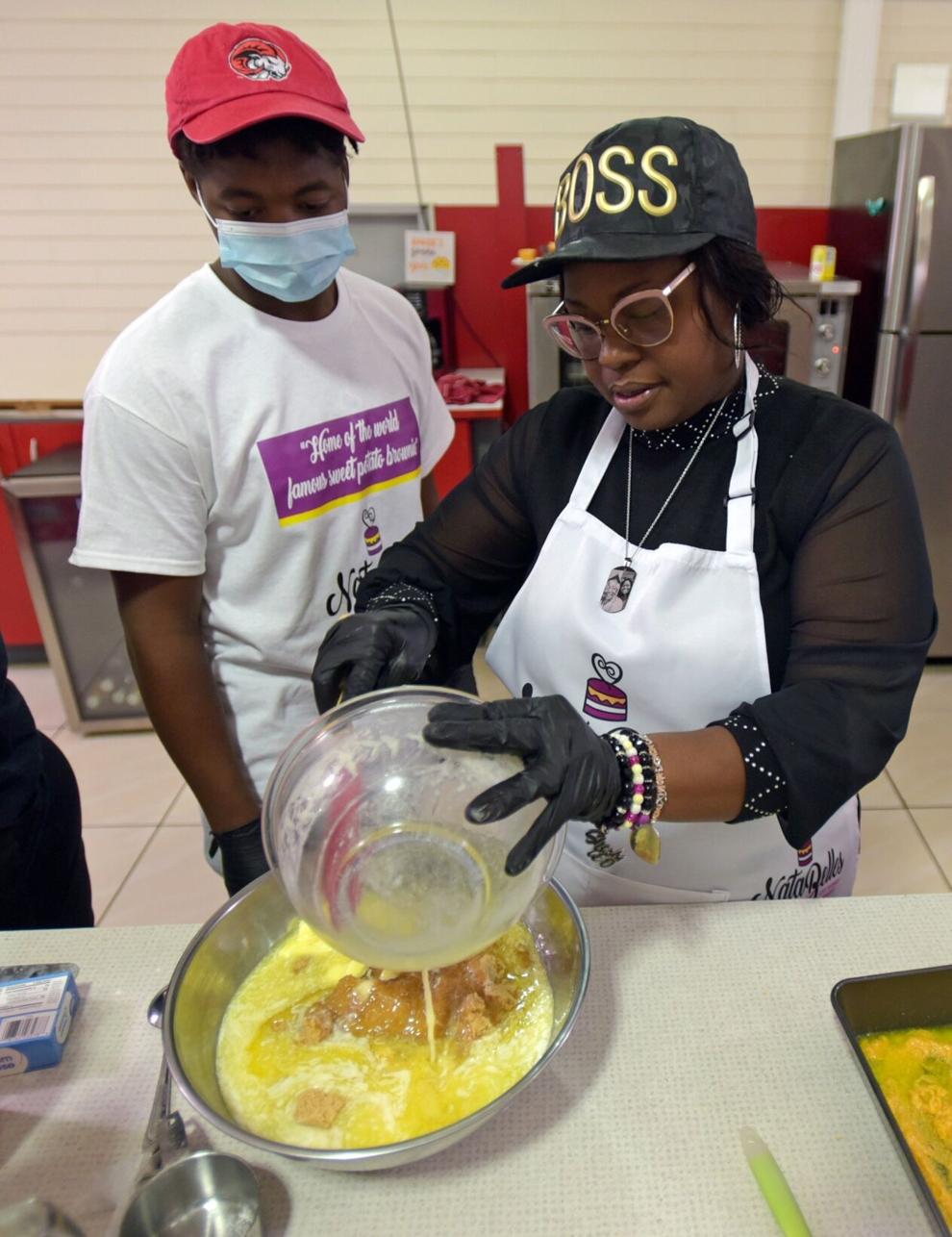 Shepard also uses sweet potato pie filling in her unconventional cinnamon rolls, which she calls Sin-O'Man Bunz. These consist of an almost cookie-like batter with pecans and sweet potato pie filling. It's rolled, sliced, and baked in a pond with even more sweet potato pie filling, then topped with pecans, cream cheese icing, and caramel.
Another popular item at NataBelles are Cream Cheese Poundcake Squares, which are sort of a cross between a cheesecake and a poundcake and are moist and light, not dense.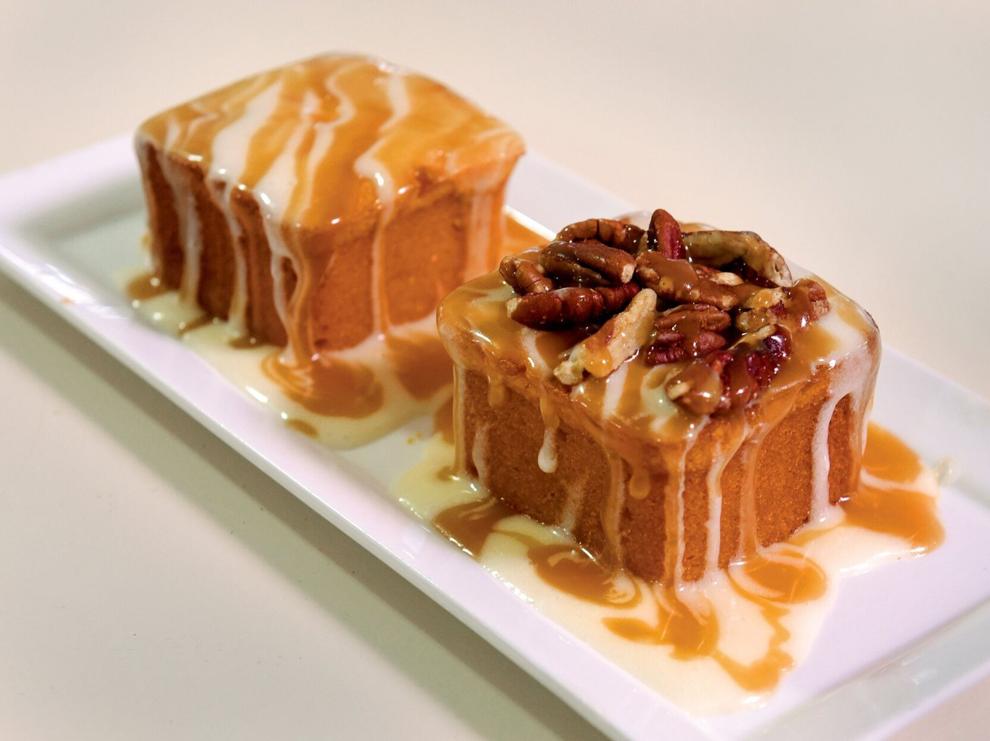 She also makes Lemon Cream Cheese Blondes, Strawberry Blondes, Oreo Blondes, and Banilla Poundcakes. She also takes orders for a variety of heart-shaped cakes, brownies, and blondies for Valentine's Day.
Our menu changes every day of operation. However, we do have sweet potato brownies and cream cheese poundcake squares daily.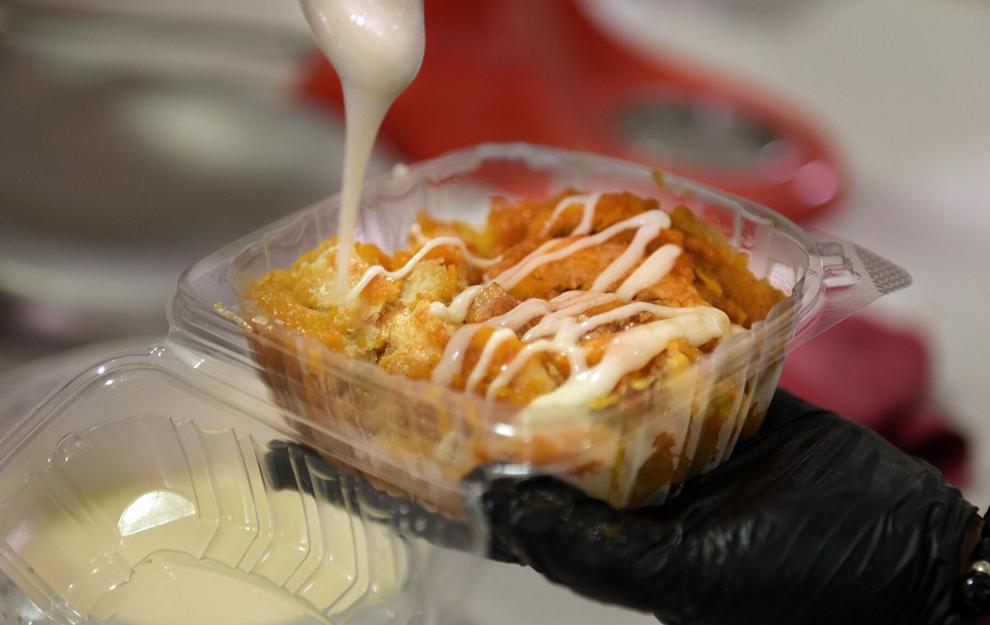 Although the Marketplace Mall doesn't get as much traffic as it used to, Shepard said many of her customers are people who already knew her or who have heard about her on social media — and not Hamrick's or other malls that happen to be passing by .
For now, it's only open three days a week to keep up with demand.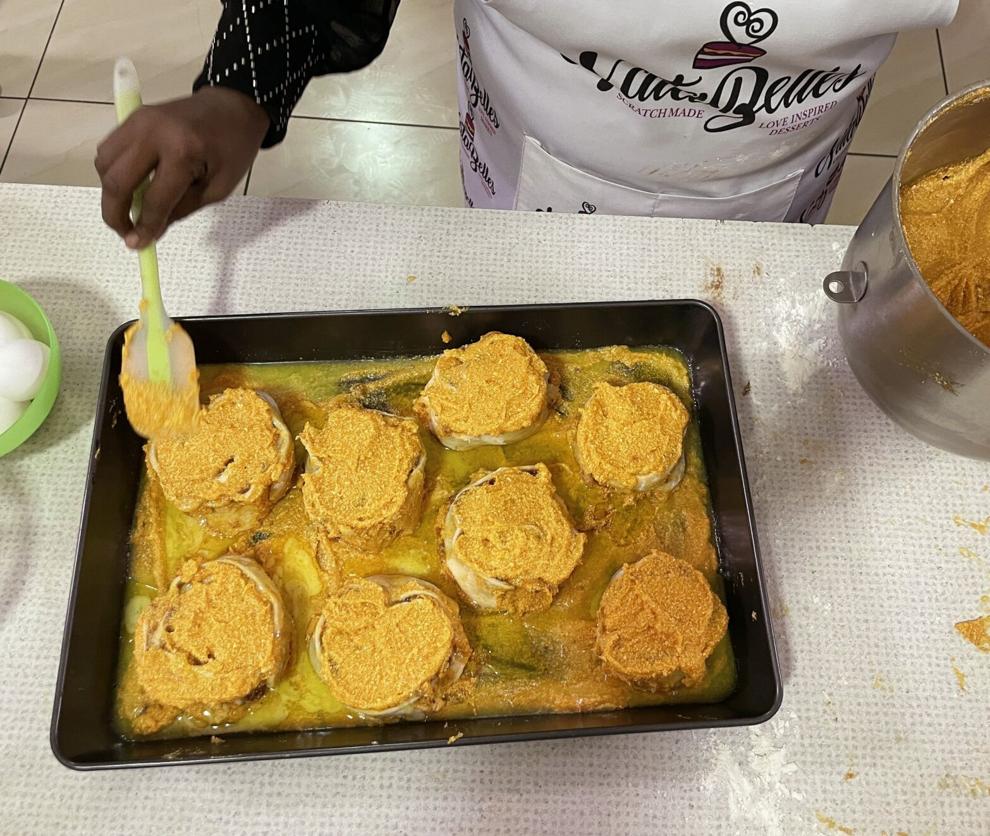 "We sell a lot. Someone from Mebane drove here the other day because they heard about me on social media," she said.
Shepard still seems a little surprised that her career and life have changed so much in the past few months, but she said she feels like she's just following the signs she's been given – and that she feels like her grandmother still feel so connected even though she's been gone for five years. It's that love, she said, that inspires her to bake every day.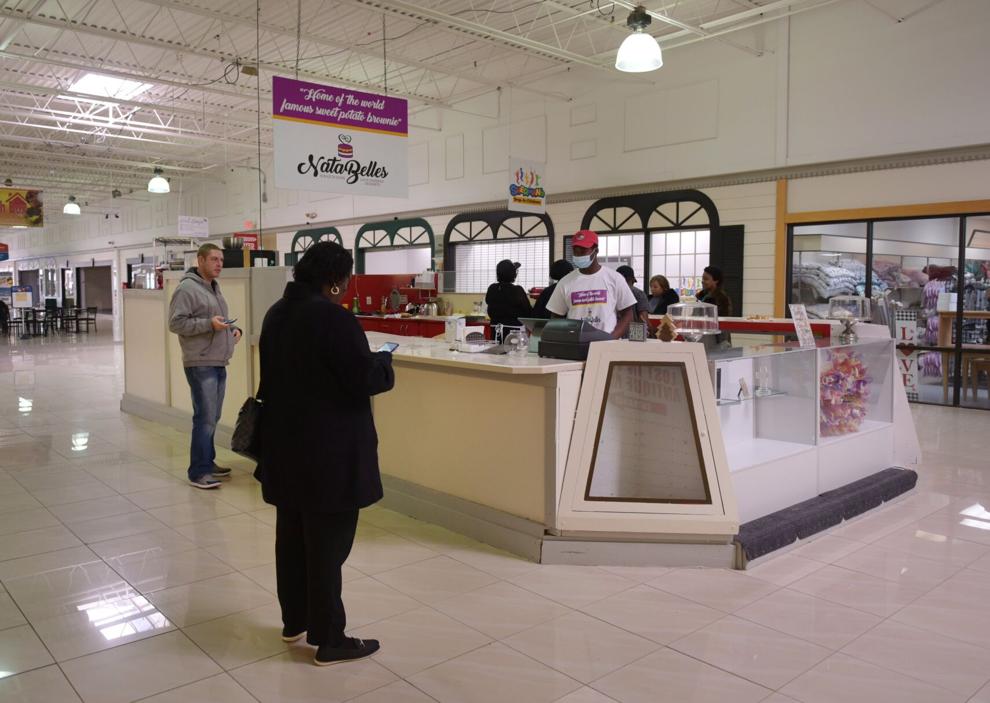 "I always say that pain has a purpose," she said, referring to how her grief has led her to baking.
"I would never have done it without my grandmother. Even though she couldn't see it, I can feel her here."
336-727-7394
@mhastingswsj