Fallon wrestlers second at Vaquero Classic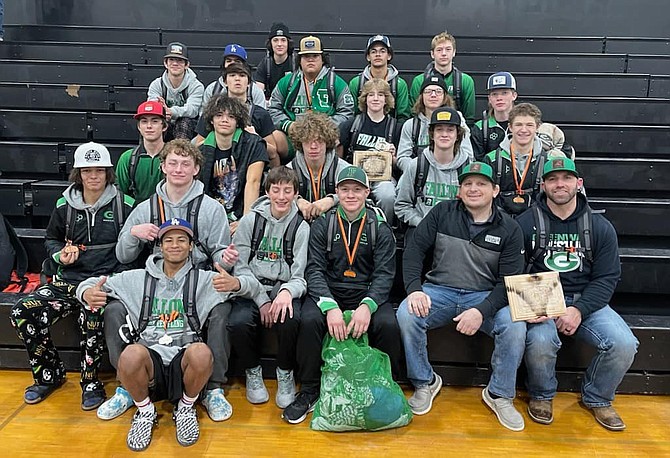 The Fallon wrestling team placed second at last weekend's Vaquero Classic when 14 wrestlers made it to the podium.
The Greenwave wrestling team finished their tournament schedule on Saturday with a second-place finish in Fernley.
Fallon, who finished just behind host Fernley (276.5-233.5) in the two-day Vaquero Classic, travels to Spring Creek this weekend for the Northern 3A Duals. The two-day event sets the seeding for the regional tournament taking place February 9-10 in Wooster, Reno. The top four regional finalists advance to the state tournament at the Winnemucca Events Center in three weeks.
Carson Melendy (120 pounds) won his division and was named outstanding wrestler for the two-day tournament as Fallon sent 14 wrestlers to the podium, including four tournament runners-up.
Melendy pinned all but one of his opponents en route to the championship against Fernley's Nathan Pritchard, who he pinned in the first period with 14 seconds to go. Melendy fixed his first two in the second half before clinching a technical fall against Galena's Tristan Diaz in the quarterfinals 16-0.
Andre Green (113), Jaiden McFadden (126), Jeramiah Prinz (138) and Thayne Hatch (157) each finished second, with Quentin Hornbeak (150) third.
Green pinned his top three to start a duel for first place with Battle Mountain's Sean Scherer, who pinned the Fallon grappler at the 1:19 mark. Competing in a loaded weight class, McFadden pinned his first four opponents in the opening stages, including two in the first 40 seconds. However, he fell to Battle Mountain's James Spealman with 53 seconds left.
After winning his first three to the fall, Prinz lost to Cross Valley rival Braeden Garrett after the Fernley grappler recorded the fall 38 seconds into the second period. Hatch pinned his opening three in the opening stages before falling to Fernley's Marciano Montano by 11 seconds on the first lap.
Hornbeak won most of his games in consolation after falling in the second round of the championship. He scored an important decision and fell back-to-back to win a third-place battle with Dayton's Jay Parsons, who pinned Hornbeak with three seconds remaining in the match.
Lonnie Adams (132), Isiah Diaz (144), and Troy Shelton (157) each placed fourth; Nathaniel Zackery (126), Caden McKnight (144), Colton Blankenship (165) and Sean Reeder (285) each finished fifth; and Manuel Barros (106) was sixth.
Adams won five straight consolation rounds, including three by fall, but fell behind against Pershing County's Jeffrey Elerick to finish fourth. Diaz fell into the consolation round after a fall in the quarterfinals, but scored back-to-back decisions to advance into the third-place battle, where he fell in the third period. Shelton was one win away from contending for the title before falling to Montano, but he pinned Fernley's Teague Kenison to advance to his medal fight.
Zackery had four straight wins in the consolation round before falling in the consolation round semifinals, but Fallon's grappler pinned Lowry's Logan Ricci for fifth. McKnight was one win away from title contention when he lost to Wells' Tanner Hall in the semifinals. McKnight, however, pinned Bishop Union's John Henry Drew in his final bout.
Blankenship pinned a pair in the consolation prizes before clinching an injury win and finishing fifth, while Reeder picked up three wins – all by fall – and made it onto the podium for the first time this season.
Barros won his first two matches before losing to Fernley's Shaylee Gavin in a battle for fifth place.
Maximillion Dahl (113) made it 2-2, Dustin Stritenberger (132), Kolby McFadden (144) and Misael Vera (150) each scored 1-2. Chase Ackerman (120), Manuel Karaway (144), Kacin Rogne (157), Carlos Valenzuela (165), Lucas Costagliola (165), Tyson Wilson (190) and Michele Grossi (215) each finished 0-2.