Here are 3 ethnic markets you really need to check out in Macomb County
Macomb County has attracted people from all over the world as a destination to live and work in.
Many of them have brought customs and tastes from their home countries and places of origin. Some have even opened their own markets to share this international cuisine with their neighbors. With that in mind, here's a look at three notable ethnic markets in Macomb County.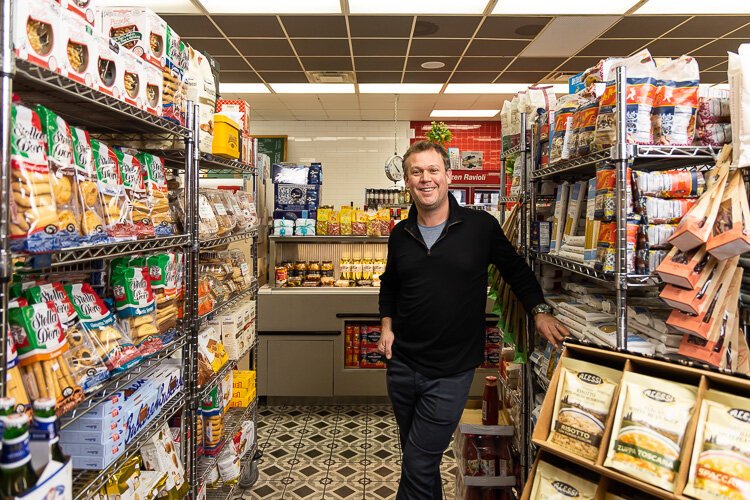 Victor Ventimiglia shows some of the goods available at Ventimiglia Italian Foods.
Ventimiglia Italian Food
If you want to get a taste of Italy in Sterling Heights, Ventimiglia Italian Food should definitely be at the top of your list of places to visit. Located at 35197 Dodge Park Road, the deli and grocery store has much to offer both foodies and casual shoppers.
"We're an old-school Italian grocery store, but we also have a fantastic sandwich counter," says owner Victor Ventimiglia. "We make tons of subs every day at lunchtime."
The market's sought-after subs are cooked to order using quality meats and breads, delivered fresh daily. Ventimiglia's classic Italian and eggplant and rosemary ham subs are among the most popular choices. Beyond the subs, it offers fresh pasta and a variety of prepared foods, including seafood, sandwiches, prepared meats, salads, hot soups, and a variety of side dishes. Visitors to the 2,500-square-foot market will also find homemade gelato, as well as a wide range of Italian imports. Terrace seating is available for customers interested in a meal in-store.
The store has been a popular destination in Sterling Heights since 1981, but its legacy stretches back several generations. Antonio Ventimiglia, an Italian immigrant, began selling fruit from a cart in Detroit and eventually opened a family market in 1942 on the east side of the city. Victor's grandfather later moved the grocery store to 8 Mile Road and Kelly Road. And the market eventually moved to its current location in Sterling Heights.
Ventimiglia Italian Foods is right next door Mangiabevi Urban Italian, an upscale casual restaurant whose chef Mauro Querio hails from Monfalcone, Italy and is a veteran of the Italian and Detroit dining scene. The frequently changing menu offers a selection of meat dishes, pasta, salads and seafood. The restaurant also has a full bar with a wide selection of wines. Guests should definitely call ahead before visiting Mangiabevi as reservations are required.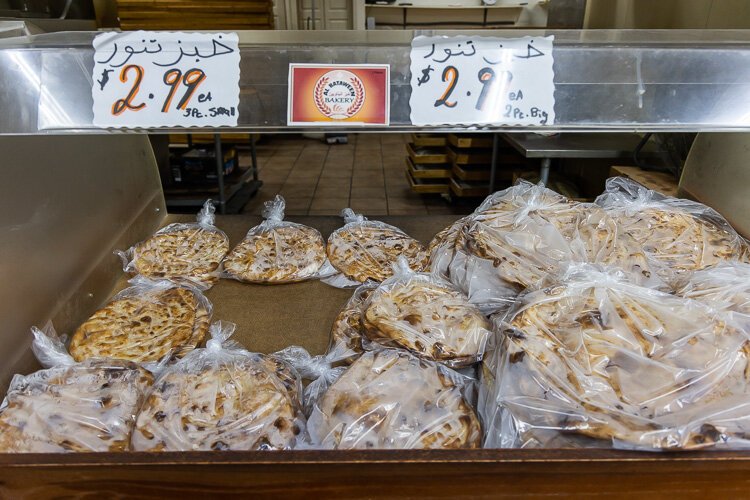 Al Bataween Imported Food & Bakery is known for its freshly baked Middle Eastern breads.
Al Bataween Imported Food & Bakery
Al Bataween Imported Food & Bakery is the right place for first-class bread in an oriental style.
"We have the best bread," says owner Rivid Bahri. "We are voted best bread by everyone who comes here. We have Iraqi bread and also tannour bread like many other countries do."
Al Bataween Imported Food and Bakery is located at 37821 Mound Road, where it has been operating for a dozen years. Bahri's family also owns another Iraqi market of the same name, which refers to a residential neighborhood in Baghdad.
In addition to the bakery, Al Bataween is a full grocery store with a meat department, fresh produce, beer and wine, and a variety of Middle Eastern condiments and packaged items, as well as cooking utensils and household items. The store also has a gift shop and grab-and-go area where customers can purchase menu items like shawarma, hummus, falafel, and sandwiches.
Magdalena Srodek poses with one of Srodek's famous Polish sausages.Srodek's Campauer quality sausage
Srodek's Campauer quality sausage The Sterling Heights Market continues a long-standing family tradition.
Srodek's recently opened a store in Sterling Heights at 40211 Mound Rd, just north of the I-696 freeway. But the third-generation Polish grocery chain's roots stretch all the way to Hamtramck, a small town in Wayne County that's long been known as a regional center for Eastern European life and culture.
Walter and Marianna Srodek settled in Hamtramck after leaving Poland to escape the communist regime in the early 1980s and soon opened their family's first market there, which is still active today. Eventually, following demographic trends, the Srodeks decided to open a second store in Macomb County.
The new 1,600 square foot store in Sterling Heights opened its doors in 2020. The grocery store has two smokehouses and a manufacturing facility, a deli and salad bar, baked goods, ready meals and a wide range of imported specialties from Eastern Europe.
"We want to be the local neighborhood deli, but also with an ethnic flair," says Magdalena Srodek, co-owner and manager of the Sterling Heights market. "We smoke all our sausages and smoked products in-house. And we also offer pierogi and other goods that are made in Hamtramck and delivered fresh every day along with other goods."
In addition to Kielbasa and Pierogi, visitors to Srodeks can shop for items like paczki, sauerkraut, pickles, juices, candies, pasta and Eastern European branded cosmetics, as well as local Michigan offerings like maple syrup and Mackinac Island fudge. At the moment, Srodek's is putting the finishing touches on a restaurant that will be part of the facility. It is scheduled to open later this year or early next year.
Those who want to experience a little more of Poland while still residing in Sterling Heights should definitely check out the rest of the square that Srodek's is located on. It is also home to Irena's Pastry and Bistroa Polish bakery owned by Magdalena's aunt, and Polish Pride of Michigana Polish clothing and souvenir shop.
Other ethnic food options
That's just the tip of the iceberg when it comes to ethnic markets in Macomb County. The region offers numerous Middle Eastern foods, including Olive fruit market in Macomb Township and Baghdad Market in Sterling Heights. Hankuk Oriental and Korean Market in Clinton Township offers a variety of East Asian options Pande grocer in Sterling Heights is a good place to stop for South Asian cuisine. And those looking to shop for Mexican groceries should stop by La Mexicana Restaurant & Grocery Store at Romeo and Las Tortugas Taqueria & Market in Shelby Township, both of which also offer seating.
All photos by David Lewinski.
This series, made possible with the support of County Macombcaptures the stories of how residents and visitors live, work and play in the region.