Three Davenport firefighters awarded medal of valor for rescues in December fire
When firefighters battled a blaze at a three-story apartment building in Davenport just before Christmas, the efforts of three firefighters stood out.
The day before, a winter storm with blizzard-like conditions had swept through the area, bringing temperatures down to near zero with strong winds.
City of Davenport honors Lt. Jeff Pilgrim, Fireman Cory Schaeckenbach and Fireman Trevor Dodson with medals for bravery for their work on the day.
The crew of three arrived at the rear of the building to find one person on the third-floor balcony with dark smoke trapped from the patio door behind, Fire Chief Mike Carlsten said before presenting the awards.
Sign up today and support local journalism!
Sign up today and support local journalism!
The crew deployed the turntable ladder to rescue the person from the balcony. The person climbed into the ladder's bucket and was lowered to the ground.
Then, as the crew made their way through the smoky third-floor hallways, they found an unresponsive adult and child, Carlsten said. A crew member carried the child out and began emergency care. The adult was executed with the assistance of other Davenport crews on the ground, Carlsten said.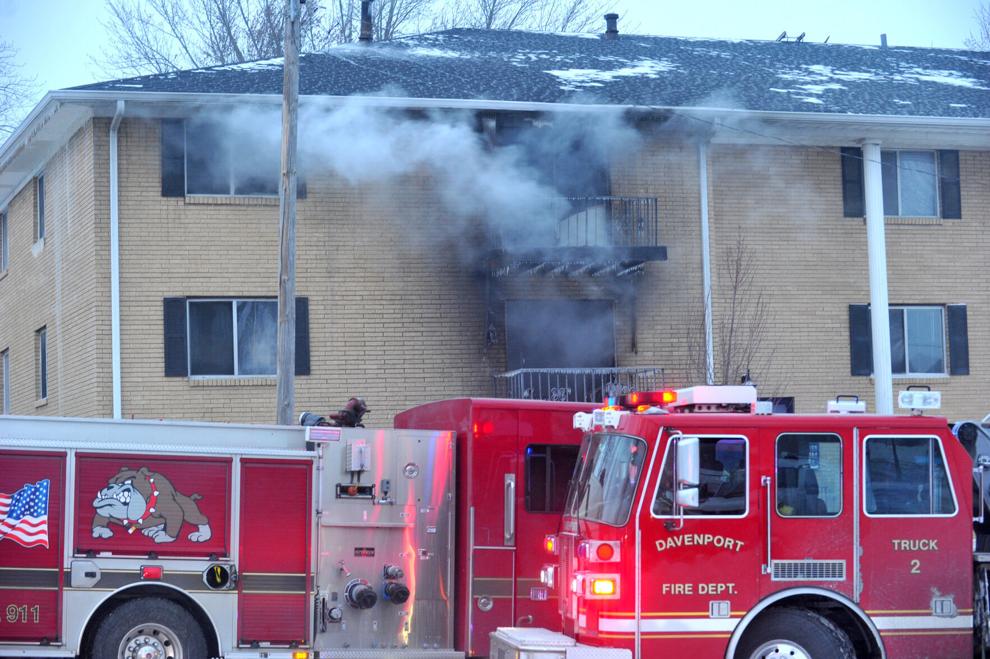 Both were transported to a local hospital.
Marissa Lard, 31, died from her injuries. Her 4-year-old son Markyus was in critical condition.
"All staff on site on the day should be recognized for their professionalism and dedication. This incident lasted for hours and the weather conditions, the rapid growth of the fire, the size of the building and the number of occupants made this situation challenging," Carlsten said. "Rarely is a crew faced with two distinct and separate rescue situations in an incident. But the crew of truck three accepted this challenge and were able to successfully rescue the people on site."
The Medal of Valor is awarded to individuals whose "actions stand out clearly while performing their duties under dangerous conditions to save the lives of others," Carlsten said.
The three men were given a cross medallion and a red pin of bravery to wear on their departmental uniform.