MP denounces publisher of Holocaust denialism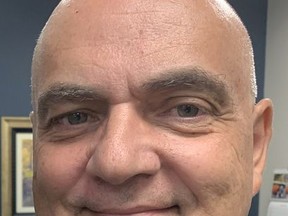 content material of the article
Brantford-Brant MP Larry Brock was amongst MPs from all events attending an occasion earlier this week attended by the editor of a newspaper recognized to publish Holocaust denial.
content material of the article
The occasion, which passed off on Tuesday and is called the International Day of Solidarity with the Palestinian People, was hosted by Toronto-area Liberal MP Salma Zahid, chair of the Canada-Palestinian Parliamentary Friendship Group.
Nazih Khatatba, Publisher at Meshwar Media, was current as an invited visitor. His newspaper al-Meshwar has claimed that the Holocaust was a Jewish plot, calling it a "holohoax."
Also on the occasion have been Green Party chief Elizabeth May, Transport Secretary Omar Alghabra, Liberal MP Sameer Zuberi, NDP MPs Niki Ashton, Blake Desjarlais, Lindsay Mathyssen and Matthew Green, and Bloc MPs Denis Trudel and Mario Beaulieu.
On Friday, Brock, a Conservative, mentioned on social media he was unaware of Khatatba's attendance on the occasion.
content material of the article
"I briefly attended the meeting of this group at the request of a constituent," Brock mentioned.
"I did not interact with this person and if I had known of their presence I would not have come."
Brock launched his assertion on Facebook and Twitter. He declined to debate it additional.
"I fully condemn anti-Semitism and reject these disgusting views," he mentioned in his submit. "They have no place in Canadian society."
Other MPs additionally issued statements denouncing Khatatba's views.
"I deeply regret and apologize for the damage and injury this has caused. I am a strong supporter of our Jewish community in Canada and the world and I reject racism and anti-Semitism in all its forms."
An article published on Meshwar Media's website in Arabic on Wednesday described the event under the headline "Representatives within the Canadian Parliament stand in solidarity with Palestine and name on the Canadian authorities to help the Palestinian individuals."
content of the article
It said: "The audio system on the ceremony, together with MPs and representatives of associations and civil organizations, reiterated their solidarity with Palestine and their condemnation of the murders Palestinians are subjected to by the hands of the occupying forces and settlers."
"MP Niki Ashton mentioned Canada might play a greater function for peace within the Middle East and is dedicated to human rights all over the world, particularly for Palestinians."
Meshwar Media has published anti-Semitic and anti-Israel articles and opinion pieces in the past, including celebrating last week's Jerusalem bombing that killed 16-year-old Canadian-Israeli Aryeh Schupak.
In November 2017, an article published in the al-Meshwar newspaper claimed that the Holocaust was a Jewish plot and claimed that banks associated with the "Zionist motion" financed Adolf Hitler's rise to power in the 1930s.
content of the article
Earlier that year, Khatatba gave an interview on a Rogers television program in which he urged Canadians "to not imagine the fairy tales that declare Jews suffered oppression."
A 2014 story published by the Canadian Jewish News documented an editorial in the al-Meshwar newspaper that described a massacre at a synagogue in Jerusalem as "daring and qualitative." Another editorial published in the newspaper but not authored by Khatatba referred to the Holocaust as a "holohoax".
Ashton's history with Khatatba includes her public denial of his endorsement during her 2017 NDP leadership bid, in which she issued statements declaring that she "by no means" supported his views and "doesn't settle for help from individuals who maintain such views." represent".
A photograph of Ashton and Khatatba taken at a fundraiser in Mississauga, Ontario, hosted by the Palestine Aid Society in 2017 was used on-line and in print for his or her bid for management, together with on the entrance web page of Khatatba's newspaper.
With information from Postmedia